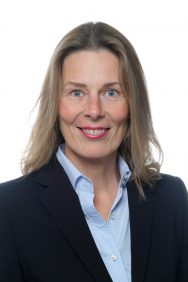 Annegret de Baey
Venture Partner based in Munich, Germany
Dr. Annegret de Baey-Diepolder, MD, joined Seventure as a Venture Partner in April 2017.
Annegret is based in Munich, Germany and focuses mainly on Life sciences opportunities in DACH countries.
Since October 2011, she was independent consultant and interim manager in the biotech industry for 6 years, including co-founding & CEO of Rigontec GmbH, and CEO of ImmunOligo.
Previously, she worked for 10 years in venture capital mainly at TVM Capital in Munich and at GIMV NV in Munich/Antwerp. She started her career in 1998 as senior research group leader developing therapeutic vaccines at Micromet AG, now Amgen.
Annegret holds a MD in human genetics from Ludwig-Maximilians-University Munich. She studied medicine at the Georg-August University in Göttingen and the Technical University in Munich. She had worked on her specialization in Dermatology and Allergology at the University Hospital of Munich (LMU) for two years and received her postdoctoral training as a Fellow of the German Research Foundation at the Basel Institute for Immunology.